Posted by: xNeViNx at Wed May 17 16:54:43 2006 [ Report Abuse ] [ Email Message ] [ Show All Posts by xNeViNx ]


the temps should be ranging from 75-85. mine stay 76-80, and thats 24/7. so if the red light is getting it there, then thats good. the humedity stays between 50-60%, topping out at 70 at any given time. give him lots of branches, and green vines. you can give them PVC pipes, or small glad wear containers to hide in. males and females ussually look the same down there, the male's pores will be a slightly bit more vissable, but the main thing is the wax that comes out of the pores. if you see wax, then its a male. every case ive ever seen i had to look for "wax". the food sounds good, as long as its all gut loaded. i hope that helps
nevin
-----
AIM- McChompinator

green tree pythons
green anacondas
yellow anacondas
jungle carpet pythons
brazilian rainbow baos
reticulated pythons
columbian boa constrictors
amazon tree boas
kenyan sand boas
ball pythons
blood pythons
burm pythons
tamed tokay geckos
leopard geckos(all morphs, cept a couple)
crested geckos
bearded dragons
mali uromastyxs
sudanese uromastyxs
poison dart frogs
albino pacman frog
african fat tailed geckos
jacksons chameleon
giant daygeckos
standings daygeckos
satanic leaftail geckos
corn snakes
2.0 brothers
0.2 sisters
4 cats- max the fat pimp dog-cat(rip)
1 miniture mutt-brutis

all ive got is insane

we're never ganna survive unless we get a little..crazy..are the people walking through my head

"dont be afraid to die, only be afraid to not live"

"dont become classified. if you are nothing, then you can be anything."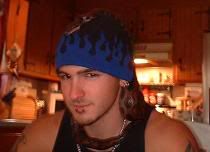 ---
[ Reply To This Message ] [ Subscribe to this Thread ] [ Show Entire Thread ]