Posted by: viborero at Sat Mar 17 11:12:14 2007 [ Report Abuse ] [ Email Message ] [ Show All Posts by viborero ]


How about a Pacific Dwarf Boa (Candoia carinata carinata)? Mine is docile, she'll probably max out at 2-2.5 feet, and she's as thick as a marker. They are lizard eaters, and mine did quite well on anoles for 6 months before I switched her over to mice for economic and convenience issues.

They require very little space, and you could build a beautiful tropical vivarium with live plants in your 35 gallon, if you wanted to put that much effort forward. Only issue with them is that they require lower temps (76-82 max) and higher humidity (70-80%)than most snakes, but once you get the hang of it it's really quite simple.

They're a little tough, but not impossible to find.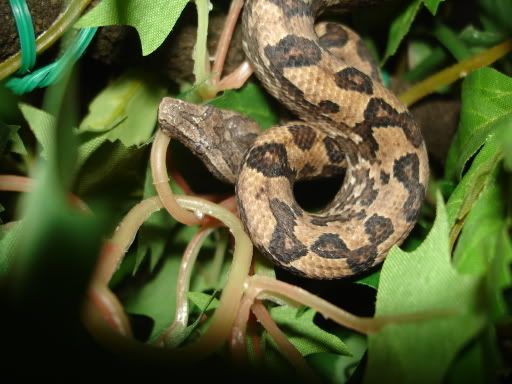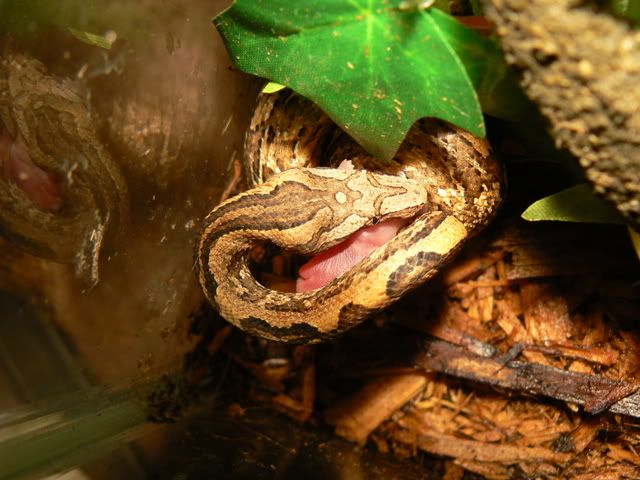 -----
Diego


SNAKES
2.4.0 Corn Snakes (Different morphs)
1.1.0 Hypo Everglades Rat Snakes
2.1.0 Baird's Rat Snakes
1.2.0 Trans-Pecos Rat Snakes
1.1.0 Trinket Rat Snake
1.0.0 Japanese Rat Snake
1.1.0 Salt and Pepper Bull Snakes
0.1.0 Amel Pacific Gopher Snake
1.0.0 Het Amel San Diego Gopher Snake
0.1.0 San Diego Gopher Snake
3.2.0 Sonoran Gopher Snakes
0.1.0 Amel Sonoran Gopher Snakes
1.1.0 Mexican Black Kingsnake
2.1.0 Gray Banded Kingsnakes (2.1 River Road)
1.0.0 Hypermelanistic California Kingsnake
0.1.0 Albino High White California Kingsnake
0.2.0 California Kingsnakes
1.1.0 Thayeri Kingsnake
0.1.0 Florida Kingsnake
1.1.0 Boa Constrictors
0.1.0 Dumeril's Boa
2.0.0 Rosy Boas (Mexican & Mid Baja)
1.1.0 Kenyan Sand Boas
0.1.0 Indonesian Dwarf Pacific Boa
1.1.0 Ball Pythons
1.0.0 Woma Python
1.1.0 Cape York Spotted Pythons
1.1.0 Macklot's Pythons
1.1.0 Western Hognoses
1.1.0 Red Sided Garter Snakes

LIZARDS
1.0.0 Frilled Dragon
3.1.0 Bearded Dragons (2 Normal, 1 RedXGold, 1 Citrus)
0.1.0 Eastern Collared Lizard
1.0.0 African Fat-Tail Gecko
0.1.0 Merauke Blue Tongue Skink
1.4.0 Leopard Geckos
1.0.1 Yellow Niger Uromastyx
1.1.0 Chuckwalla
0.1.0 Banded Gecko

FROGS
2.2.0 Southern Bell Frogs
1.0.1 Green Tree Frogs
1.0.0 Bubbling Kassina
1.1.1 White's Tree Frogs
0.0.2 Gold Frogs
---
[ Reply To This Message ] [ Subscribe to this Thread ] [ Show Entire Thread ]