Posted by: fc3schick87 at Wed Mar 11 12:58:37 2009 [ Report Abuse ] [ Email Message ] [ Show All Posts by fc3schick87 ]


frill dragons can be very sensitive and easy to stress, frills are flighty reptiles that frill up and run away from their sorce of fear, wild caught/farm raised are more difficult to acclimate to your home then a captive bread.

tempiture requirements can be as simples 75-105. with as hot as 110 basking but no lower then 75 night.
scared and sick frills should have abient temp of 85-100 to help frill recover, scared sick frills wont seek warmth.

your tank size sounds perfect as long as you have lamps inside the enclosure and multiple basking spots, my frill has 3 baskingg spots with ambient temp of 75 at bottom 85 middle and 95 top with baskings spots 110, the frill dragon will either be close or far on the branch acording to how much heat it wants so branches leading up to the lights is ideal.

humidity needs to be upwards of 80% to dry and the frill wont feel comfortable and it will be stressfull for the new frill, you want dry cycles so that you dont risk getting mold and muscky smells but no lower then 50%

feeding: as much as they will eat, i feed mine from a deli cup one of those tall ones that holds probably about a quart? and i put crickets and dust them. tilt it towards my frill and the frill eats from the cup or i let them fall into the enclosure and he'll chace after them. eating from the cup lets me know how many he's eating daily. i feed once or 2 times a day,

water: they love to play in water, large water contaner is ideal they will often poop in the water, if you dont notice them in the water try using a seringe full of water and drip it near them. once they realize wateris coming from it they most likely will drink from it. thats another way to monitor how much my frill was drinking when he didnt get the concept of water in his enlcosure!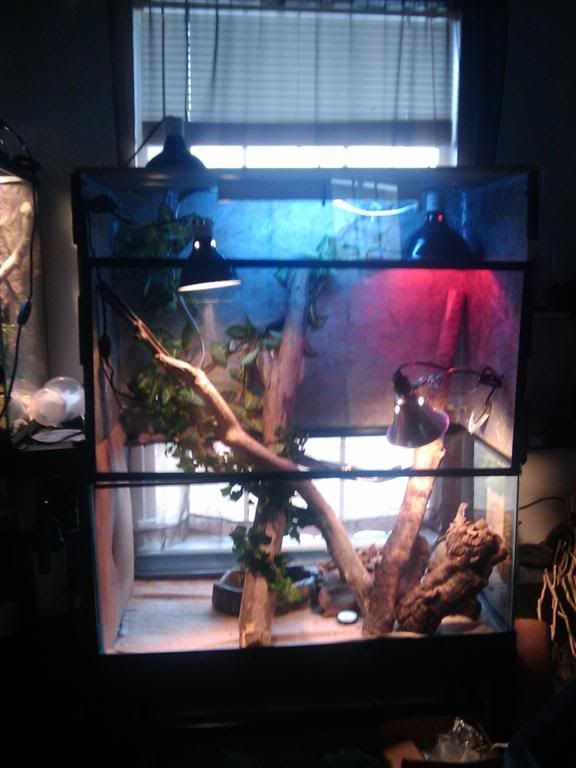 i have since replaced the substrate with forest floor rather then a towel. and since replaced the red lamp with a basking 75 wat. notice howthe lamps are inside the enclosure and not just on the top. this adds more basking spots and better heat controle with in the enclosure

its a 40 gallon with a topper i made out of wood and the screen that was with the 40 gal tank. plexi glas is at the very top
---
[ Reply To This Message ] [ Subscribe to this Thread ] [ Show Entire Thread ]