Posted by: annaisagecko at Thu Oct 15 10:18:06 2009 [ Report Abuse ] [ Email Message ] [ Show All Posts by annaisagecko ]


Hey all, haven't had a need to be on here for a while but of course my little critter has given me one! lol.

A few days ago i noticed the end of her tail was raw and had sores like bled just a tiny bit, it couldn't have been her meal worms cause shes a fatty and eats them long before they could have hurt her, and i figured because of the cage i had her in she had just caught it on something. She had been in a 5 gal critter keeper since we moved because the top to her big tank broke in the move and theirs no way to keep that tank hot enough without the top to mount the ceramic heater in,(shes now been moved to a 10 gal because thats all we have at the moment.)

So i cleaned it up and soaked it a little in case there was any stuck shed, and put a tinny bit of neosporin on the part that liked worse to keep it clean and stuff, but last night when she shed her tail only looked worse and bled a bit more, and shes been having issues with stuck shed on her toes and feet, and when i was helping with the shed on her foot it seems like there was a sore on her foot too from her pulling the shed off.

So now that shes in the 10 gal she has a moist hide box again and i'm uping the humidity and hopefully that will help with the shedding issue but her tail is still looking pretty bad (its just the tip of it though) i'm not exactly sure what happen to it all i can figure is she got it caught.

But if anyone knows anything else i could try or if its a condition rather then something that she did to it any info would be greatly appreciated!

Thank you!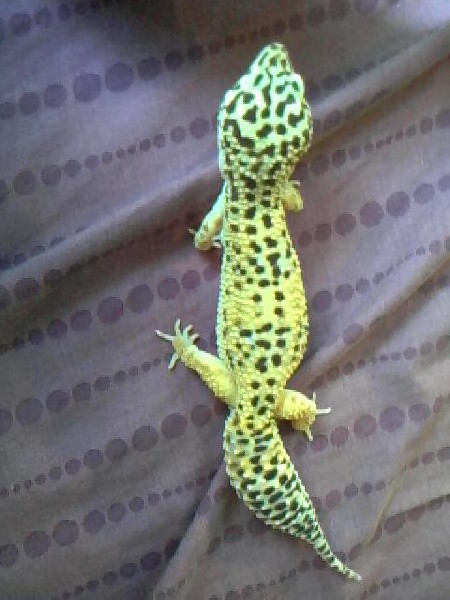 -----
1. Leopard Gecko: Cort.
1. Crested Gecko: Fender.
1. Marbled Salamander: Ibanez.
3. Cats: Midnight, Tiger & Fluffy.
rip. Leo: Larry, Crestie: Tuki.


I'd Rather Be Hated For Who I Am, Then Loved For Who I'm Not - Kurt Cobain.
---
[ Reply To This Message ] [ Subscribe to this Thread ] [ Hide Replies ]
tail & shedding issues - annaisagecko, Thu Oct 15 10:18:06 2009