Posted by: annaisagecko at Fri Mar 5 10:45:29 2010 [ Report Abuse ] [ Email Message ] [ Show All Posts by annaisagecko ]


If you Don't wait until the female is fully grown and in good health/good weight your asking for problems and stressing your female out, So you really should be hopping shes NOT gravid!
And if there being kept together all the time its best to have at least two more females so your male is kept busy and not just always bugging the one female and stressing her to mate.
I've heard a good way to judge if a female is good weight to breed is if they have the fat bulges in there arm pits, but if your breeding you should be going on WAY more then just that.


Appropriate Breeding Age

Leopard geckos should be fully grown before you think about breeding; make sure that they are at least one year old. If a female is too young, complications may arise, and the overall lifespan of the gecko can be shortened. The age is not the sole determining factor of breeding requirements. The female should also be in good conditions, not underweight or unhealthy. Female should be no less than 50 grams because the female will actually loose weight while being gravid, as the egg production takes calcium from her bones and body.

Leopard geckos grow quickly and are mature at about one year. Males will be ready to breed much sooner than females. Female geckos should be about two years old to breed. The eggs are quite large and laying them can be difficult for a young female. Breeding a female too young can hurt its growth.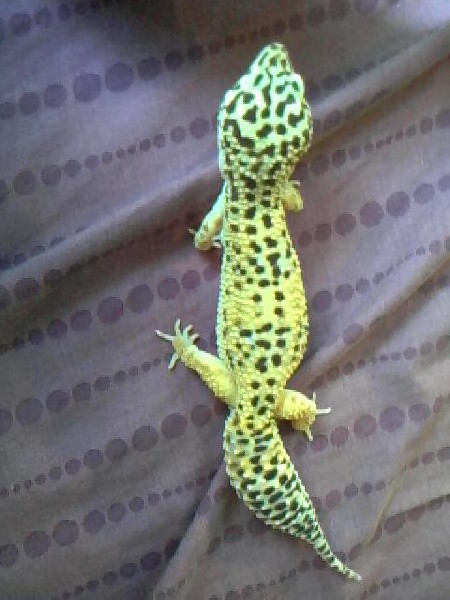 -----
1. Leopard Gecko: Cort.
1. Crested Gecko: Fender.
1. African Dwarf Frog: no name yet.
3. Cats: Midnight, Tiger & Fluffy.
RIP.
Leo: Larry.
Crestie: Tuki.
Marbled Salamander: Ibanez.

I'd Rather Be Hated For Who I Am, Then Loved For Who I'm Not - Kurt Cobain.
---
[ Reply To This Message ] [ Subscribe to this Thread ] [ Show Entire Thread ]