Posted by: annaisagecko at Wed Apr 14 14:58:09 2010 [ Report Abuse ] [ Email Message ] [ Show All Posts by annaisagecko ]


Hmm yeah you gotta hate when your not sure which one its from....my figured you had checked vents but i was wondering if maybe you could find a little on one of their vents, so if it was that it could be something to do with kidneys or some other related issue maybe...

I'm stumped...my gecko has a thing about hurting her tail and has had issues with stuck shed on the very end but you'd have noticed when looking it over if that was it...and you checked all the little feet? Thats just very odd....but yeah i would (if your able to) separate them and try to flag down which one it is...and in case its something weird that could be given to another one..and try and get it or them to the vet, because that just can't be good and sounds like to much blood to not be able to figure out whats going on, you know? I mean you usually if its that much its obvious whats going on..
and to not see anything doesn't sound very good :C

I hope for the best for your little guy!! Hope its something that can be fixed and a good recovery!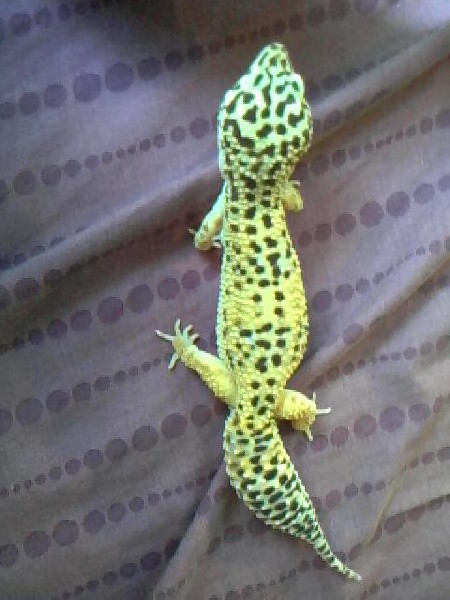 -----
1. Leopard Gecko: Cort.
1. Crested Gecko: Fender.
1. African Dwarf Frog: no name yet.
3. Cats: Midnight, Tiger & Fluffy.
RIP.
Leo: Larry.
Crestie: Tuki.
Marbled Salamander: Ibanez.

I'd Rather Be Hated For Who I Am, Then Loved For Who I'm Not - Kurt Cobain.
---
[ Reply To This Message ] [ Subscribe to this Thread ] [ Hide Replies ]
Blood? - sport72186, Wed Apr 14 06:36:45 2010 *HOT TOPIC*

RE: Blood? - annaisagecko, Wed Apr 14 11:08:00 2010

RE: Blood? - sport72186, Wed Apr 14 13:10:05 2010

RE: Blood? - annaisagecko, Wed Apr 14 14:58:09 2010

RE: Blood? - sport72186, Wed Apr 14 19:32:06 2010

RE: Blood? - annaisagecko, Thu Apr 15 12:14:00 2010