Posted by: RandyWhittington at Wed Feb 22 19:44:42 2012 [ Report Abuse ] [ Email Message ] [ Show All Posts by RandyWhittington ]


These photos are from several years ago when I kept and bred Taiwan Beauty snakes(taeniura friesei).
They are one of the most interesting species I have worked with. Their colors, bold markings, temperment, AGGRESSIVE feeding response and adult size make them a very impressive and interesting subspecies of taeniura to work with. The adults I had raised up were super calm unlike most other asians (especially taeniura although there are some others out there)but were true brutes when feeding time came around.

I was looking at a general snake book I got from the library about 20 years ago. There was a picture of a baby friesei in the book that caught my eye immediatly. The bold jet black markings in contrast with it's light yellow and white background colors really caught my eye. It was truely the picture that started my interest in asian ratsnakes. Might sound a little silly but that's the truth.
A adult male blue beauty I had was proably a foot and a half longer than my adult male taiwan beauty but the taiwan was about twice the girth of the adult male blue.
I have been looking for a really nice pair of true taiwan hatchlings for a while now as I regret getting rid of mine ever since I did. Suprisingly it's not easy to find a breeder working with them these days that you can count on them being true freisei. You see them listed on line and at shows frequently but often look like their mixed with other subspecies or aren't freisei at all.
Notice the two tone tongue on the hatchling in the top photo.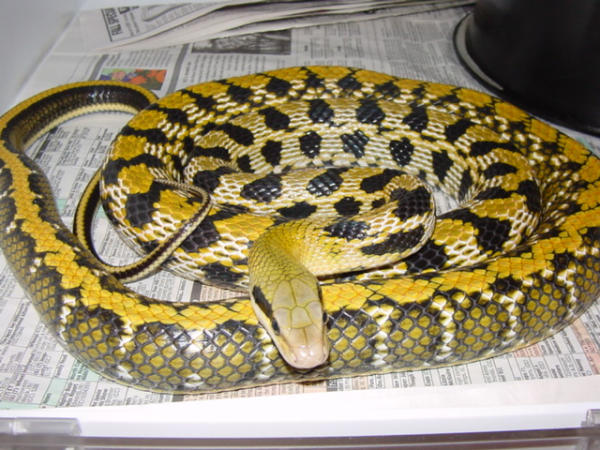 -----
Randy Whittington
---
[ Reply To This Message ] [ Subscribe to this Thread ] [ Show Entire Thread ]