Posted by: tbrock at Wed Jul 4 23:08:40 2012 [ Report Abuse ] [ Email Message ] [ Show All Posts by tbrock ]


>>I am about to have some rat snakes eggs drop, and I was interested in knowing what medium folks have used in here for their eggs. I have used potting soil in the past with a lot of success, but I am considering vermiculite and perlite as well.
>>
>>Anyone have an opinion? Thanks, Alex

Alex,

Good opinions and experience outlined here already, but I will throw in my 2 cents as well.

First - what species of rat snake are you expecting eggs from? In my experience, not all "rat snake" eggs are the same - they are variable (in many ways) even within within the various genera which are still considered rat snakes.

I have sucessfully hatched eggs from rat snakes from the genera: Senticolis, Orthriophis, Elaphe, and Pantherophis. I have found Pantherophis eggs to be the easiest eggs I have incubated - they can incubate successfully in a variety of conditions, and various moist mediums will work - my favorite for them has been moist sphagnum moss, but are easy to incubate in most any acceptable method of incubation IMO...

I have found Senticolis and Orthriophis eggs to be possibly a bit more difficult to hatch than other rat snakes, and I have opted to incubate them in some alternative mediums, humidity and temps. My current favorite method of incubation for Senticolis (and most of my eggs) is eggs set on top of fluorescent light diffuser which is set on top of wet perlite - in a shoebox, at temps in the mid / upper 70's F. This way, they are subjected to high humidity but are not in contact with a wet medium.

Another medium which has worked well for all species I have bred / incubated (excepting possibly Senticolis) is "Hatch Rite" - which looks like perlite, but which is a bit lighter and already has moisture added.

My current favorite method of incubation - these are Senticolis triaspis intermedia on fluorescent light diffuser over wet perlite.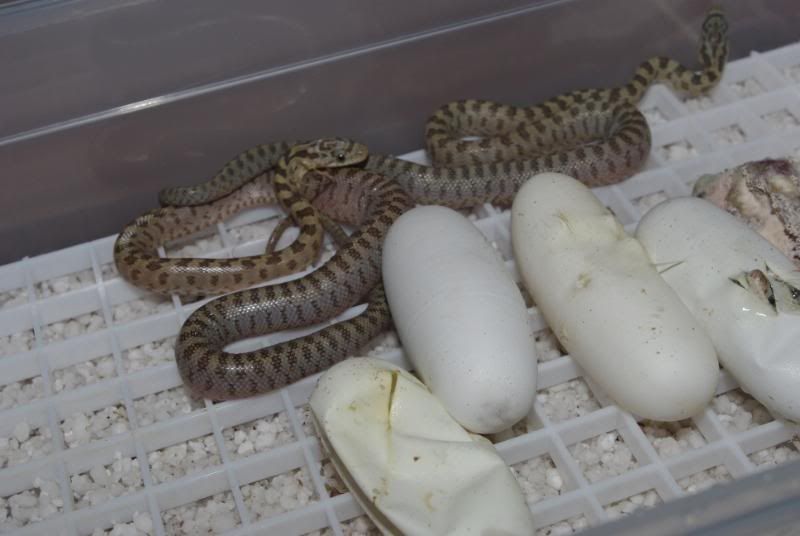 Here are some babies hatching on "Hatch Rite".



South Korean Elaphe dione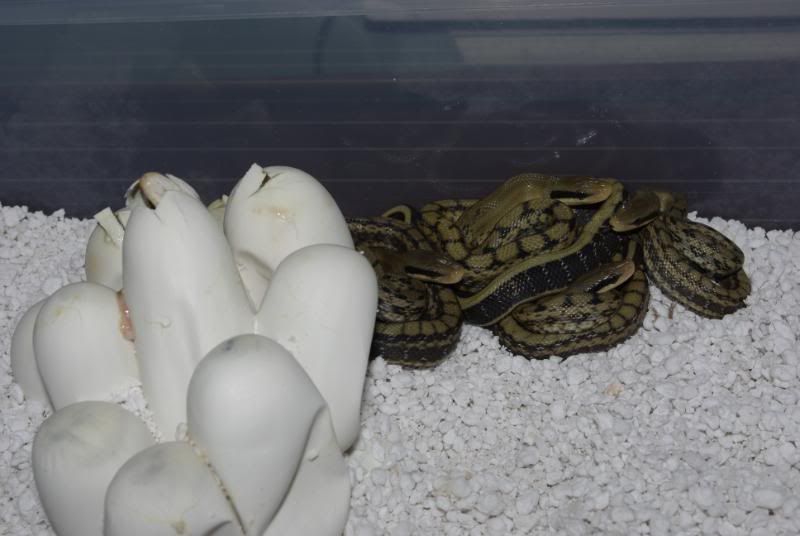 Orthriophis taeniurus taeniurus
-----
-Toby Brock
Southwestern Center for Herpetological Research
---
[ Reply To This Message ] [ Subscribe to this Thread ] [ Show Entire Thread ]