Posted by: captainjack0000 at Sat Aug 11 13:01:47 2012 [ Report Abuse ] [ Email Message ] [ Show All Posts by captainjack0000 ]


This is a duplicate post from the Corn Snake forum in hopes of reaching a wider audience.
--------------------------------------------------

So I posted this picture on a different website because I was concerned that my corn might be a bit big for his age (he was hatched May/June of 2011, and it currently 37in and around 280g). The general consensus from those kind folks is that he is big, but not overweight and I should reduce feeding.

However, one person pointed out that he might naturally be a bit heavy bodied because they thought he might have some Great Plains Rat Snake in his lineage, based on my weight concern and his pattern.

So I present to this pool of experts the same question and ask, does he look like a regular Carolina wild type of corn, or could he have some Emoryi in him?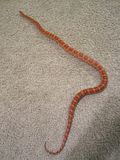 ---
[ Reply To This Message ] [ Subscribe to this Thread ] [ Show Entire Thread ]