Posted by: DMong at Wed Jan 30 22:58:21 2013 [ Report Abuse ] [ Email Message ] [ Show All Posts by DMong ]


Ahh yes, very scientific stuff!..LOL!

Where he claims to "show" all the viewers that you can distinguish an amel x hypo (hybino) from any other everyday amel (albino) he is VERY, VERY incorrect. If any individual amels in the hobby seem to look any different, this is purely coincidental and means absolutely nothing. You CANNOT distinguish a reduction of dark pigment (hypomelanism) when it is completely "masked" by the total ABSENCE of melanin (amelanism). The lighter orange also is simply a variable degree of very normal coloration as countless Hondurans of any type can display. Also the yellowish outer triad rings are just another commonly seen variable in many amel individuals of Hondurans and many other types of amels too. This is due to carotenoid retention in the xanthophore pigment cell layer. Some individuals have a greater genetic predisposition for storing carotenoids than others do.....nothing more, nothing less.

The ONLY way to know if you have a hybino (amel x hypo) is from KNOWING the precise genetics (both visual and recessive genes) of each parent, and then see what they produce from a doing a very strategic breeding.

A perfect example would be the precise breeding that Rusty Green carried out to produce my 100% KNOWN "hybino" that is also 100% het anerythristic as well.

Here is the scenario that proved this "hybino" out with absolutely 100% certainty. The precise outcome is in bold. In this strategic breeding, ANY amelanistic produced in this breeding would be a KNOWN hybino/100% het anery!...




Male is, Ghost, het for amel

Female is, Hypomelanistic, Het for Snow

Offspring are predicted to be...

25.00%, Ghost, Het for Amel
25.00%, Hypomelanistic, Het for Snow
12.50%, Snow, Hypomelanistic (pearl/opal)
12.50%, Ghost
12.50%, Amelanistic, Hypomelanistic (hybino) Het for Anery
12.50%, Hypomelanistic, Het for Anery

Here she is in the egg on the far right..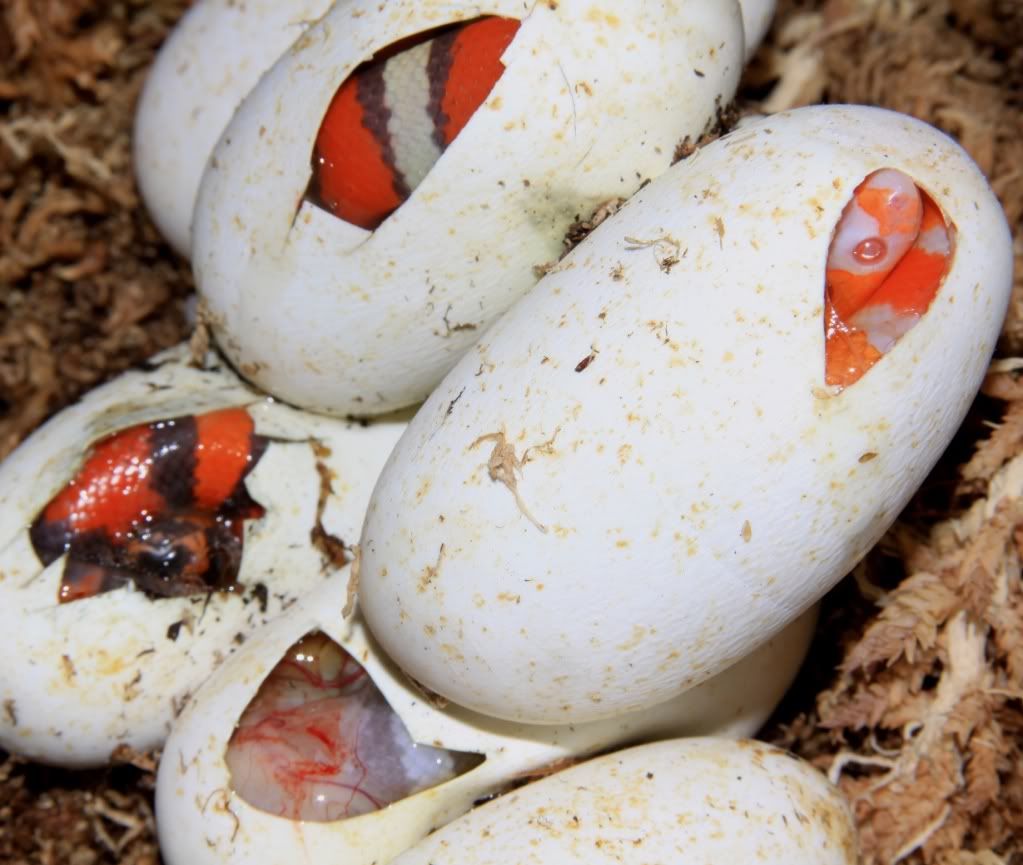 -----
"a snake in the grass is a GOOD thing"



serpentinespecialties.webs.com
---
[ Reply To This Message ] [ Subscribe to this Thread ] [ Hide Replies ]
RE: Milk Snake Behavior Video - DMong, Wed Jan 30 22:58:21 2013