Posted by: DISCERN at Fri Jul 26 00:10:55 2013 [ Report Abuse ] [ Email Message ] [ Show All Posts by DISCERN ]


Took a few quick pics of my senior pits, living out their golden years in my snake room.

My adult albino Sonoran gopher. Cool story about him. I was at the first Daytona reptile expo in 2000, and was about to buy an albino Sonoran baby for $50. As we all know, it can be hard to tell how exactly they will turn out. I had an image in my mind of the perfect one for me. The baby I was fixing to buy was decent looking, but still, something inside of me prompted me to wait. So, I did.

A month or so later, at the ETHS show, I found the EXACT specimen I had dreamed of owning, as an adult, showing the adult colors I had hoped that any baby I would have purchased, would have turned into, and to top it off, for the same price! $50!!




It was indeed one of the most glorious snake purchases of my life. You know what I am talking about. Finding THAT ONE you have always wanted. Shaking. Can't stop talking about it. Yeah, you know what I am talking about. LOL!! Yeah, my buddy above has been great. Totally tame, and at about 6 feet. He was around 5 foot when I got him, so I guess he may have been at least 3-4 years old then. That would make him 16 or 17.

Then, my first bullsnake ever, Coverdale here. This ghost bullsnake was about 4 foot when I got him in 2002, so I guess he may have been 2 or 3. That would maybe make him 13 or 14. He was a huge hisser at first, but now, is nothing but a big 6 foot 3 inch dope, loving to be draped over me, as I walk around the house, showing him things he needs to help me fix. His head reminds me of a shark, and even though photos can't show it, his eyes are dark green and his pupils are triangular.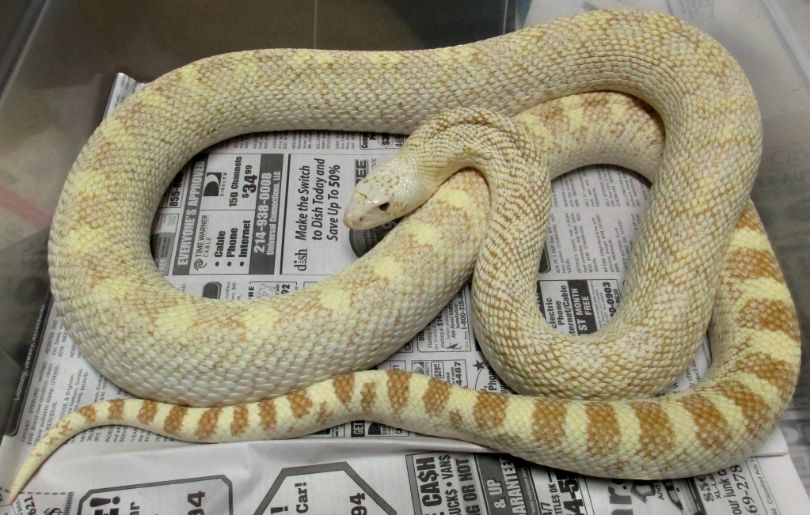 Enjoy!!!
-----
Genesis 1:1
---
[ Reply To This Message ] [ Subscribe to this Thread ] [ Show Entire Thread ]