Posted by: caracal at Sun Jun 15 00:34:24 2014 [ Report Abuse ] [ Email Message ] [ Show All Posts by caracal ]


I've included another pic.
She's progressing nicely - the eggs are large, no slugs, 7 days after shed and I have confidence she will get them all out.
She is tucked in nicely and every push is helped by the surrounding walls.
Another key point I changed with my husbandry was to reduce the feeding on all my hognose adults to one food item, every 7 to 10 days, except gravid females.
Another fallacy perpetuated is that hogs have a fast metabolism - they love eating, but they do not have a fast metabolism and will get overweight (racers have a fast metabolism).
While this is another topic to be elaborated on, common sense tells me that healthy females will pop out the eggs more easily.

Another interesting point that, I believe, is because of this crucial aspect of egg laying:
I'm sure many of you have enjoyed watching as she moves 3 or 4 eggs along the chamber at a time.
I believe this process directly explains why just one, or sometimes two get left behind.
It is similar to when a snake eats. They use alternating muscles along their body length to transfer the food along.
Any of you who have fed a snake a food item that is too small will have witnessed how the snake gapes from side to side but can have a harder time drawing the food item in than they would with a larger item.
Similarly, I believe they have an easier time moving 4 eggs along as a group than they do 1 or 2.
When one egg is left behind, you don't see the female struggle to get it out, because they have no way to even begin to push, so they do nothing.
Again, if they have the advantage of the walls to help them push, this becomes easier.

So while I disagree with some of the things that were said by Greg and others, such as "scattering" and "aborting" (I do agree that ultimately they expel them in a less than ideal way) I absolutely do think the appropriate nest box is extremely important, though I will probably go with less depth next year as I think it's unnecessary.

I would like to test my theory, (on some normal, of course) by providing a nest box that contains lots of dividing walls at various distances apart and very minimal substrate to see how they cope with it.
As Greg's SIMS boxes have taught me, things don't have to look naturalistic to do the job.
That having been said, it's harder to fool a snake than an egg.

Anyway, I'm going to see if she's done, though it looks like there are another 10 in her

Now I just have to not drop them on the way to the incubator !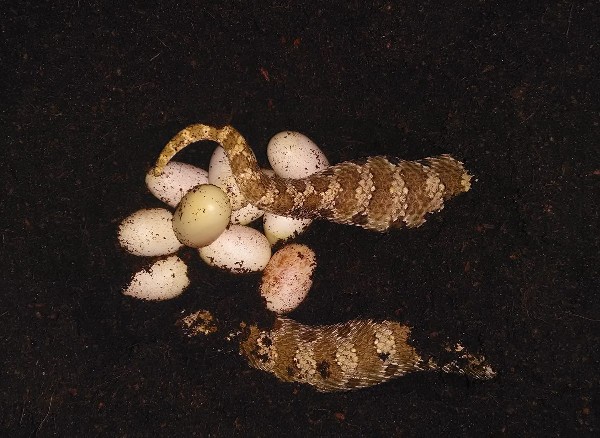 ---
[ Reply To This Message ] [ Subscribe to this Thread ] [ Show Entire Thread ]