Posted by: jackskeets at Sat May 2 14:52:42 2009 [ Report Abuse ] [ Email Message ] [ Show All Posts by jackskeets ]


This little guy landed on my patio table 2 years ago. He had a really choppy whing clip on one side, and was luck to get 4 feet off the ground and get on the table and low tree branches, there were a lot of cats in the neighborhood. Anyhow, I had a little girl (Skye, she stays near Salty, or he stays near her, whenever I'm at the cage. But since he landed, I've been calling him "he"... Just because he "seemed like a boy" But being a white bird, I've ready that their cere is not the same as the more colored varieties. The pic attatched was the best I could get, if I try taking it from in the cage the 4 of them fly all over the place.


His cere is nearly colorless, but has a slight hint of lavender. Also once he settled in (we only had Skye when he first moved in) He immediately started head bobbing and feeding her those nummy "pukey balls", I also whitnessed mating behavior...he was on her back holding on for dear life untill she wiggled her way free from under him. Does the mating/breeding behavior mean he is definately a boy? Or could he just be mounting her because someone else did it to him and he's really just a butch girly bird?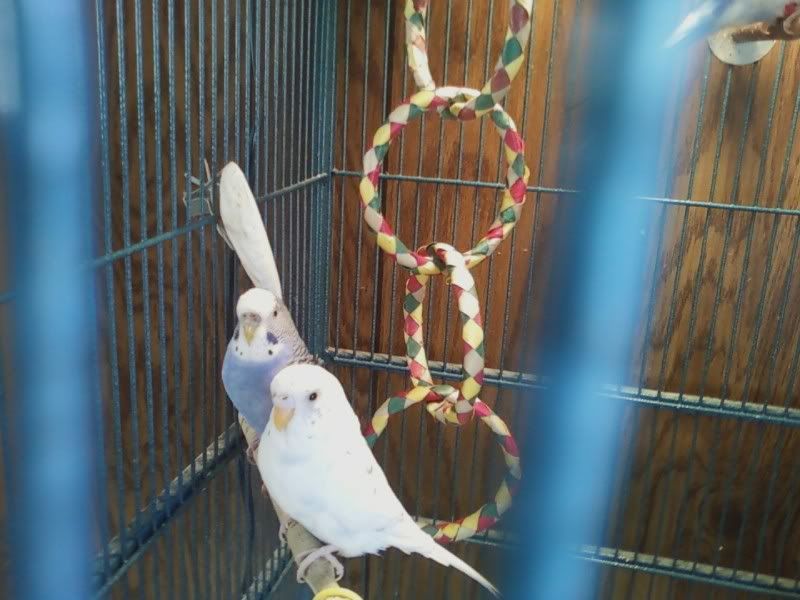 He really likes her

too bad she doesn't seem to feel the same..hehe

Can anyone tell if he's a boy or girl? And maybe give me some better info on sexing the white keets?
---
[ Reply To This Message ] [ Subscribe to this Thread ] [ Hide Replies ]
White keet, what sex? - jackskeets, Sat May 2 14:52:42 2009