Posted by: wftright at Wed Jan 25 21:17:37 2006 [ Report Abuse ] [ Email Message ] [ Show All Posts by wftright ]


I have a more traditional looking California Kingsnake, but your snake sounds similar to mine. Mine isn't all that active in his cage, but he's a very sweet snake when I hold him. Sometimes, he doesn't like being picked up at first. He's never attempted to bite me just because I was picking him up, but he'll occasionally musk a little bit.

The only times that he's been aggressive in a biting way is during feeding. I tend to feed him in a paper bag, so I have to get him started to find the f/t mouse in the bag. Sometimes, I'll wiggle my fingers outside his cage near the entrance to the bag. He'll come after my fingers aggressively and sometimes finds the entrance to the bag and his food inside the bag. Once or twice, he's taken a sudden strike at my fingers through the glass. Once, he didn't seem to be able to find his way into the bag after about fifteen minutes of crawling around searching. I reached into the cage to put his head into the bag, and he bit over the end of one of my fingers for a moment. When my finger didn't taste like mouse, he let go without even drawing blood.

I find mice a little distasteful to handle and clean my hands as soon as possible after handling one. Typically, I'll put the mouse in a small paper bag, put the bag in my snake's cage, and then clean my hands immediately with one of those alcohol-based hand cleaners. I think there's an advantage to taking these steps before touching my snake because my hands will smell like alcohol rather than mouse when I reach into the aquarium. In fact, I tend to clean my hands with the cleaner before handling my snake anytime. This practice may not produce any real benefit, but I hope that it lessens at least a little the chances of me passing anything to my snake.


Bill
_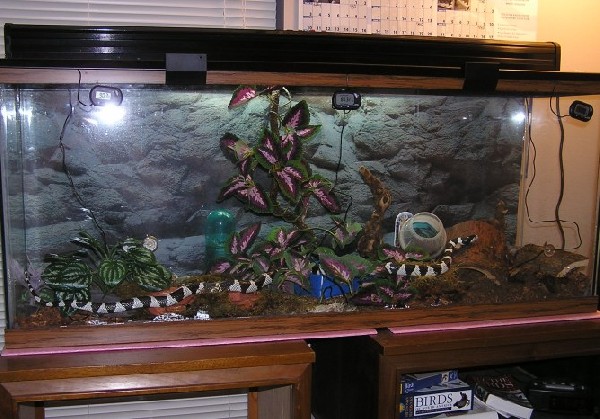 -----
It's not how many snakes you have. It's how happy and healthy you can keep them.
---
[ Reply To This Message ] [ Subscribe to this Thread ] [ Show Entire Thread ]