Posted by: BillMcgElaphe at Sat Sep 29 15:17:52 2007 [ Email Message ] [ Show All Posts by BillMcgElaphe ]


In response to an email I received from someone who wanted to know what method of "tease feeding" I mentioned.
There are several methods, but this works for me on all obsoleta and guttata hatchlings that refuse to eat pinks on their own.
.
If you have one that works, please don't hesitate to comment.
.
Preparation:
Thaw a pink and dry it.
Insure you are alone and won't be intruded on by anyone for about 15 minutes.
.
Steps:
Gently, but firmly, hold the hatchling 1 to 2 inches (2 1/2 - 5 cm) behind the head. Placing a threatening finger, or pink, in its face about ½ inch (1 ¼ cm) away, causes a defensive reaction.
.


.
.
It seems best to not get the animal any more excited than necessary.
It seems best to hold it close to or even touching a container.
I prefer to offer the pink with my hand, not tongs, because of better reaction time.
When the hatchling bites the offering, immediately let go of the pink.
Relax your grip on the "catch hand", but don't drop the snake, if possible.
(You may have to repeat a few times for the neonate to hold and swallow.)
(If you don't succeed in 4 or 5 tries, let the animal calm down for a ½ hour.)
.
.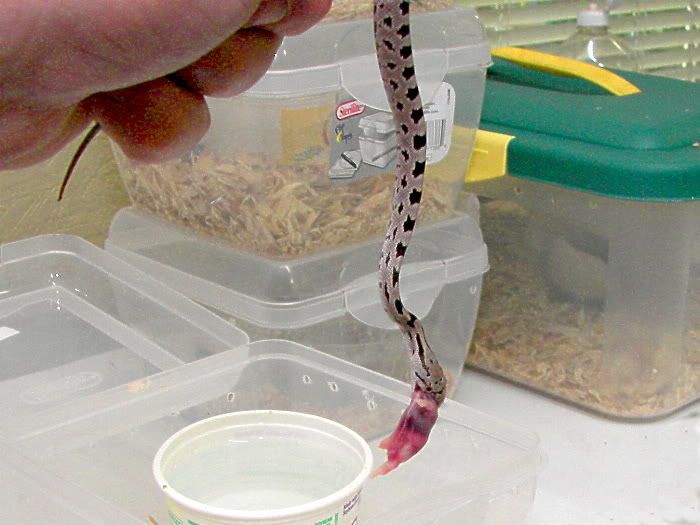 .
.
Very important – if you succeed, remain absolutely still until pink is eaten and even then, move very slowly.
.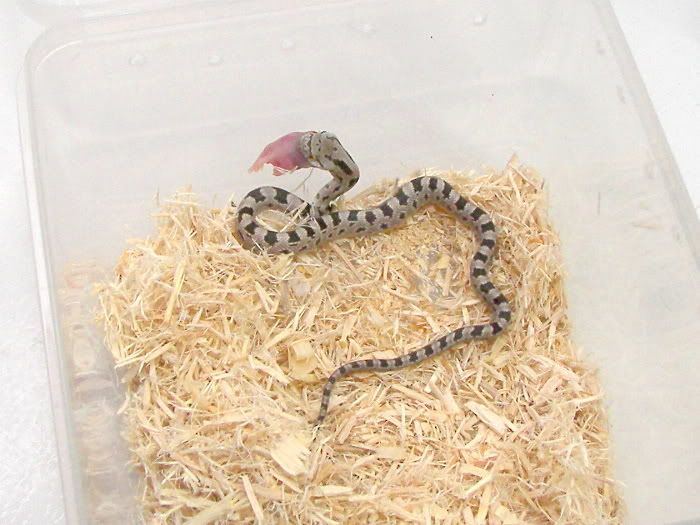 ..

-----
Regards, Bill McGighan
---