Posted by: xNeViNx at Thu May 18 18:46:26 2006 [ Report Abuse ] [ Email Message ] [ Show All Posts by xNeViNx ]


haha, yeah, i kno exactly what your talkn about. when i first started breeding when i was 14...thats when the wait got to me. but since then, iv learned a lil more each year how to cope with it.
thanx again
nevin
-----
AIM- McChompinator

green tree pythons
green anacondas
yellow anacondas
jungle carpet pythons
brazilian rainbow baos
reticulated pythons
columbian boa constrictors
amazon tree boas
kenyan sand boas
ball pythons
blood pythons
burm pythons
tamed tokay geckos
leopard geckos(all morphs, cept a couple)
crested geckos
bearded dragons
mali uromastyxs
sudanese uromastyxs
poison dart frogs
albino pacman frog
african fat tailed geckos
jacksons chameleon
giant daygeckos
standings daygeckos
satanic leaftail geckos
corn snakes
2.0 brothers
0.2 sisters
4 cats- max the fat pimp dog-cat(rip)
1 miniture mutt-brutis

all ive got is insane

we're never ganna survive unless we get a little..crazy..are the people walking through my head

"dont be afraid to die, only be afraid to not live"

"dont become classified. if you are nothing, then you can be anything."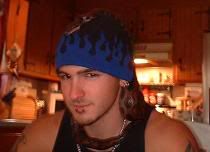 ---
[ Reply To This Message ] [ Subscribe to this Thread ] [ Show Entire Thread ]