Posted by: joshnicfitz at Sun Feb 18 07:45:09 2007 [ Report Abuse ] [ Email Message ] [ Show All Posts by joshnicfitz ]


I agree... my 4 year old daughter is crazy about snakes! Its adorable. We have our family trip to zoo creatures/NERD every week, and she always wants to hold the retics : ) I think they will be her thing when she's older. She has her own snake, an albino burm. She was holding him and talking to him in a baby voice- she said "im gonna have to build you a cage soon" !!! she is so cute and gentle with them.
My seven month old son already loves them. If we say "where's your snake" he looks around until he sees one. He always wants to hold them, but he pinches them by accident so he cant til he's older : (
My children will not be the ignorant adults.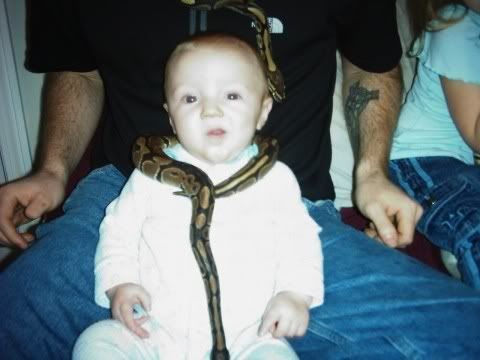 -----
1.1 Children (Mattie & Trent)
1.0 Selayer Retic
2.0.1 Normal Ball
1.0 Ringer Ball Python
1.0 water python
1.0 Burm
1.0 Carplot Python
1.0 Rock
0.1 FWC
1.0 Mussy
1.0 Albino Burm
1.0 Colored ATB
1.0 Trinket
1.0 Shiba Inu
1.0 Hamster (daughter had to have it)
---
[ Reply To This Message ] [ Subscribe to this Thread ] [ Show Entire Thread ]