Posted by: tbrock at Fri Apr 13 20:47:13 2012 [ Report Abuse ] [ Email Message ] [ Show All Posts by tbrock ]


>>I've seen deformations in various kings and milks from too high incubation temps.
>>
>>I think anything higher than 84 is risky.
>>
>>Personally, my temps vary from a peek high of 84 F (during the day) to 75 F at night.
>>
>>Yes, it takes longer for the eggs to hatch...but the neonates come out HUGE and healthy.
>>
>>Just something to consider.
>>
>>Also, too moist is a killer...keep a close eye on that as well.
>>
>>Good luck!

Thanks for the tips...

I've actually done quite a bit of research on this subject, and am slated to speak on it at "Snake Days" in Sanderson, TX in June. Also - I recently wrote an article on Senticolis triaspis intermedia - my second article on their breeding and incubation for the SWCHR BULLETIN (I'll send you a copy if you want)... I did not mention temps in my post, but I have incubated my green rat eggs mostly in the high 70's - about 80 degrees F (I never incubate any of my eggs higher than the low 80's F). I started incubating my eggs in the 70's a few years ago with Chinese beauty eggs - and saw great success. Senticolis eggs are different - Just ask Gerold Merker / Thurgess Cranston...

BTW, some of my Senticolis eggs hatch out perfect offspring (not all are deformed), and my first 2010 clutch was 100% perfectly formed and healthy, and started pipping / hatching at about 88 days if I remember correctly.

I mostly keep my eggs on fluorescent light diffuser over wet perlite, these days - maintains high humidity while the eggs have good ventilation / air-flow. This is what produced my best, healthiest clutch - and the method I am going back to...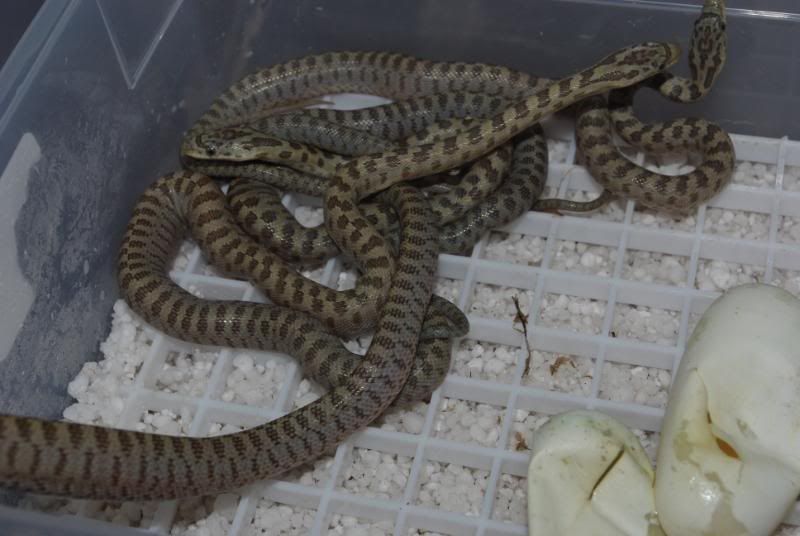 -----
-Toby Brock
Southwestern Center for Herpetological Research
---
[ Reply To This Message ] [ Subscribe to this Thread ] [ Show Entire Thread ]