Posted by: chrish at Tue Oct 9 18:33:08 2012 [ Report Abuse ] [ Email Message ] [ Show All Posts by chrish ]


The real question in my mind here is: Are rufescens kenyan sand boas and kenyan sand boas actually separate species or are rufescens sand boas simply a locality specific morph of kenyan sand boas (I think most are gravitating toward the second option). The answer to this question either a) makes this whole discussion a moot point because they are hybrids and the pattern differences are the result this hybridization or b) makes the situation much more complicated to explain.

rufescens are just melanistic colubrinus, nothing more. They are restricted to a small region of the species range in northern Kenya and Somalia. I received an email from Steve Spawls along with this photo of a wild caught Ethiopian colubrinus years ago talking about this. Spawls has probably seen as many wild colubrinus as anyone and he indicated that they were simply a melanistic population in the NE part of the range. When Tokar examined the species (sinking loveridgei) he looked at specimens from this region and came to the same conclusion.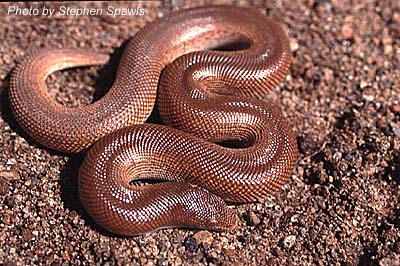 And this situation isn't unique to colubrinus/rufescens. You see a similar dark-backed phase in the NE corner of the range of E. miliaris which are sometimes called known by the old name E. nogaiorum in the hobby.




The same is apparently true in some populations of Eryx jayakari.

Melanistic populations of other species of snakes (Natrix, Thamnophis, Vipera, etc.) are well known.

What evidence is there to suggest that they are anything other than melanistic colubrinus?
-----
Chris Harrison
San Antonio, Texas
---
[ Reply To This Message ] [ Subscribe to this Thread ] [ Show Entire Thread ]