Posted by: bpostergirl at Thu Aug 25 10:22:17 2005 [ Report Abuse ] [ Email Message ] [ Show All Posts by bpostergirl ]


Hi everyone! I'm new to the board and I'm in desperate need of some advice. My cat, Boo, is a little over a year old, spayed and in good health. She's a shelter rescue and we've had her since she was ten weeks old.

She's normally very affectionate and sweet, but in the past few months has gone off the deep end it appears. She used to snuggle under the covers at night next to me, now all she does is keep me awake at midnight meowing/bouncing off the walls and wakes me up at four-five in the morning by crying for no reason. I've banned catnip from the house thinking that might be the problem, but she has numerous other toys.

When I answer the phone, Boo will appear from wherever she is in the house and begin to meow loudly. If I ignore her, she tries to chew through the phone cord. As soon as I'm off the phone, she leaves the room again. I've tried spray bottles, they don't seem to phase her that much. Last week I walked past a bunk bed and said hello to her and scratched her head, but when I stopped and went to walk past to put some laundry away, she clawed my shoulder.

She *loves* to be pet (hates being held, I have scars to prove it), but I don't have hours to sit around and worship her the way she'd like me to.

And my fiance has about had it with her. He stayed over for the weekend and Boo attacked him in the middle of the night without warning (left one very deep puncture wound on his knee) and she kept him up with her meowing before work. He's in law enforcement so for his safety he *cannot* afford to be tired the next day...

I love this cat, but she's getting to be such a little problem child and I can't figure out what's bothering her. To further complicate matters, my fiancee and I will be moving in together next month and he has his own cat, a four month old male name Toddle AKA Todd. I don't know whether introducing another cat will help her relax and be more independent or make things much worse.

Any advice to resolve some of these issues would be -greatly- appreciated!

Thank you!
Boo and Todd's Mommy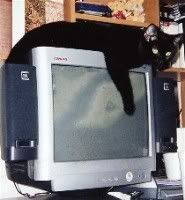 ---
[ Reply To This Message ] [ Subscribe to this Thread ] [ Show Entire Thread ]