Posted by: Jadeaurora at Tue Aug 30 00:14:12 2005 [ Report Abuse ] [ Email Message ] [ Show All Posts by Jadeaurora ]


We adopted two cats in 2000 a older male abbysibian (sp?) and a female domestic long haired calico kitten,both were fixed and until recently both were doing fine. Pacy the abby became sick from old age and had to be put down. Darlin' the calico was in need of a new friend so my mom went to the spca where she found them and brought home a male bengal cat named Leo.

Heres where the problems start - Hes a year and a half old and they were in the same room and Darlin' starts hissing then Leo starts meowing and yowling. They havent attacked each other but i'm afraid they'll do that.( Darlin' is declawed because Pacy had been when we adopted him so shes got no defences if he attacks. )

I need to know a good way to get both cats used to each other without one of them getting injured. Ohh and Leo hates carriers - he bit his way out of the one he came home in and hes shy as can be but sweet when hes calm, hes also super hyper. Hes tiptoed around Darlin' and sniffed at her and she yowls at him for it.

Help.

Providing a picture of Leo just to show what he looks like.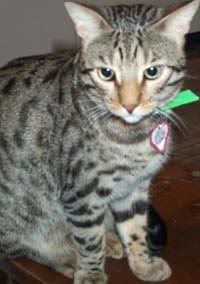 ---
[ Reply To This Message ] [ Subscribe to this Thread ] [ Show Entire Thread ]