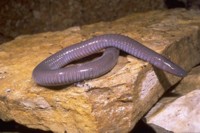 Gallery Photo

:

Caecilians completely lack limbs, making the smaller species resemble worms, while the larger species resemble snakes. Their tails are short or absent, and their cloacae are near the ends of their bodies.

Their skin is smooth and usually dark-matte, but some species have colorful skins. Inside the skin are calcite scales. The skin also has numerous ring-shaped folds, or annuli, that partially encircle the body, giving them a segmented appearance. Like some other living amphibians, the skin contains glands that secrete a toxin to deter predators. The skin secretions of Siphonops paulensis have been shown to have hemolytic properties.

Caecilians' vision is limited to dark-light perception, and their anatomy is highly adapted for a burrowing lifestyle. They have a strong skull, with a pointed snout used to force their way through soil or mud.

If you are a new user to this forum, please take the time to review the rules first before posting: Terms of Service.
Index of /ssi/classifieds
click here to see all ads